---
Dear friends!
The MEGA Event was really M E G A ! When we spoke about the event in advance, we couldn't imagine it as beautiful as it was. In our view, it could not have gone better. The weather was right, the mood was jovial, friendly and cheerful, the shows at night rocked the stage and all the great helpers (and the countless volunteers who tackled) were worth gold!
We only can say thank you. The two years of preparation and countless hours of work in our spare time have paid for these three days. The motto meeting friends became a reality.
Thank you also to all the sponsors and those who supported us in the background.
We hope that you took with you a lot of beautiful memories and that you have enjoyed our motto meeting friends like us. Have fun with the pictures in our gallery, which geocacher sb4e took for you! Happy caching!
Yours sincerely, stettfurter, löwe_fridolin, ui, luagsh, 6-Pack, Ionpaint, AlpineRooster, salsafrösch and Mostindianer
P. S.: There is one thing to add: For the 10 Lab caches unfortunately there is no souvenir given from Groundspeak. But you can add a souvenir of the Lab caches to your profile by using the following link:
For all those who want to have a banner on their profile please use the link as follows: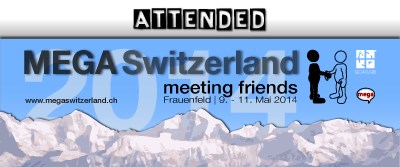 or this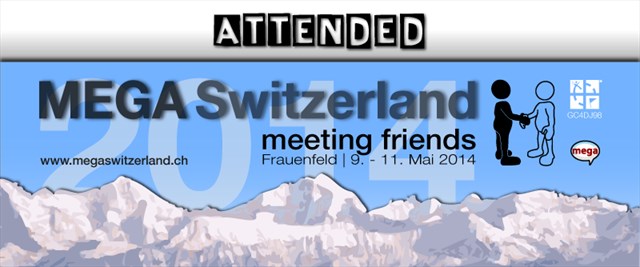 ---
MEGA Switzerland - LAB Cache
The latest development by Groundspeak are Lab-Caches, especially designed for Mega-Events and available for a short time only. You have to find a Code, which shall be entered on a dedicated web ste. This is the confirmation for the found. There is no classical log entry.
The listing can be downloaded there: Listing as PDF and here as GPX File.
The Labs are active from thursday, 8th May 2014 18:00 till monday, 12th may 2014 18:00 Uhr here: labs.geocaching.com. For 10 Lab-Caches you'll get a Souvenir:
---
Application over Internet closed
For more information click here.
---
Wow! We have reached 1000 will attends and look forward to the MEGA Switzerland!
In this context we have a hint for you: Without a package there are no attractions and there is no MEGA event: If you will participate at our MEGA Event, we kindly remind you to buy a package (kids, basic access, advanced or luxury package). Please note that luxury packages and t-shirts only can be ordered until March 31, 2014. By purchasing a package you help us to cover our expenses on attractions and evening events and all benefit from an interesting event program. Besides on your will attend in the listing please also buy a package on our website www.megaswitzerland.ch. We look forward to seeing you!
---
We are unveiling the mystery about our coins..
For almost one year our coins are into circulation, which we sent into the world to promote our "MEGA Switzerland - meeting friends 2014" event.
Many positive log entries have reached us. Only about 5% could not get used to the idea. The following log we like especially (translated from German):
"I think it is a kind of stupid that several coins are in circulation since the description says that someone else would have it although I have the coin. Well, in any case, now I know where to go on holidays this year."
The coin has served its purpose, hasn't it? For all others who did not find this a great idea, we apologize for that. Well, the coin has a new task from now on:
Everyone who comes to the MEGA Switzerland event in Frauenfeld on Friday 9th May 2014 or Saturday, 10th May 2014 and finds such a coin in the next few weeks should bring it to the event. Take a piece of paper, write your name and stick it into the coin envelope. Then throw the coin with your name in the box "competition" at the OC office on the event site.
On Friday night during the opening show and on Saturday night at the break of the Dosenfischer concert we will pick out some coins and distribute a few prizes. Among other possibilities you perhaps win a collector's set of the official MEGA Switzerland coins, consisting of 5 pieces!
We would be delighted if all coins find their way back to Frauenfeld.
---
Hello Geocacher! The Opening-Show
About two years ago it began with a simple idea: A MEGA event in Frauenfeld. After countless hours of preparation and meetings the event starts on Friday 9th May 2014 at 8 o'clock p.m. with a two-hour show. The arrival of the pilgrims as well as music, dance and a surprise guest hopefully spark an explosion of joy. Be there when they say: The show begins!
You'll find the listing here: GC4XTK2. Hurry up and log will attend!
---
Mega Switzerland proudly presents: the event trailer and the geocoins!
---
Big update a year before the event
The MEGA event is approaching fast. In almost exactly a year the MEGA Switzerland will take place in Frauenfeld. To keep you up to date, we have updated our web site. We're not quite ready to accept applications but you can already see what packages are available and who is creating our MEGA event coin.
Mega Switzerland - Meeting Friends 2014
Happy times are coming! A new Mega Event is announced: On the weekend of 9th to 11th May 2014 a Mega Event is going to take place at Frauenfeld, Switzerland. Keep in touch for more information here or on Facebook or Twitter @MegaSwitzerland.